SEO E-Commerce
Case Study: 1255% increase in
non branded

traffic
The
client
LivingDNA is a UK-based company that specialises in DNA testing and analysis. Their B2C service allows customers to take samples of their DNA and find out details such as their heritage, family relations, and health trends.
The goal
Living DNA approached us to improve their online visibility across English Speaking Countries around the world.
How we got there.
Alongside technical SEO and existing content improvements, we put a heavy focus on developing the blog.
Keyword research was carried out to find the most popular searches in the industry, we then analyzed the competitive landscape to identify which of these keywords would provide the most value.
By creating consistently high-quality and engaging content, we achieved 1st position ranking for several high search volume keywords.
For example.
We wrote a content series targeting users trying to find out their heritage such as 'Can you find out if you have Viking Heritage?'
We achieved:
Viking ancestry
400 searches per month – 1st position
Viking heritage
150 searches per month – 1st position
Viking DNA traits
100 searches per month – 1st position
Then, we worked alongside the team at Living DNA to assist them in the creation of new commercial pages providing a range of SEO implementations including keyword mapping, in-depth keyword research, FAQ creation, page speed optimisation, and metadata creation.

Keyword Rankings
Top position rankings:
Centimorgan chart
2400 searches per month | 2nd position
DNA chart
1600 searches per month | 11th position
DNA segment chart
480 searches per month | 2nd position
Free DNA upload
500 searches per month | 1st position
Upload raw DNA data
700 searches per month | 1st position
Upload DNA
400 searches per month | 1st position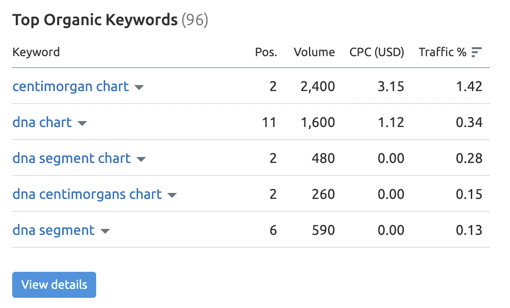 49,000 organic searches a month