Survey campaigns for Holded secure
top tier coverage in Spain
With a goal to generate quality backlinks, obtain media coverage, and increasing client visibility., we launched two campaigns on entrepreneurship and digitalisation of SMEs in Spain, using surveys to gather data. The campaigns picked up coverage in some of spains biggest publications, and even got a feature on BBVA's podcast.
Who are

Holded?
Holded is a cloud management platform for small and medium-sized businesses that offers a wide range of tools to manage the day-to-day running of your business. Essentially, Holded simplifies your day-to-day, automating tasks and streamlining your accounting and invoicing.
The challenge:
Generate new

quality back links

to Holded's website to increase its reputation, Domain Rating and positioning in Google.

Obtain

media coverage

of Holded through publications. 

Increase their visibility through

brand mentions.
We created two campaigns on entrepreneurship and digitalisation of SMEs in Spain.
Study on entrepreneurship in Spain in 2023.
What motivates entrepreneurs to pursue their dreams despite the odds? We help our client find out. To do so, we conducted a survey of more than 2,000 people, from different cities, work sectors and educational backgrounds. Our goal was to find out what the Spanish population thinks about the impact of entrepreneurs and SMEs on society, their aspirations, challenges and limitations. 
Digitalization: The challenge for Spanish SMEs.
How is the online presence of companies in Spain? Are they aware of the Crea y Crece Law and the mandatory use of electronic invoicing from 2024? We analyzed the digitalization process of entrepreneurs, civil servants and employees in the country.
And the

data?
To carry out these studies we conducted 2 surveys:
Entrepreneurship: We created a questionnaire of 20 questions related to entrepreneurial aspirations and limitations in Spain, which was distributed on Facebook and Instagram for three weeks. The 2,276 responses received were from a balanced sample of entrepreneurs, business people, civil servants and private company workers, distributed throughout the country.

Digitalization: For this study, a questionnaire of 23 questions related to the digitization of companies in Spain was created and distributed on Facebook and Instagram. We received 1,532 responses.
Surveys provide fresh data and insights that can be turned into compelling content. Journalists and bloggers are often looking for unique and relevant data to support their articles. When you conduct a survey, you create a valuable resource that can be used to craft newsworthy stories.
Surveys can be turned into linkable assets such as infographics, reports, and articles. These assets are more likely to attract backlinks because they offer valuable information that other websites want to reference or share.
Survey data can be repurposed into various types of content, such as blog posts, guest articles, social media posts, and press releases. This allows you to maximize the reach and impact of your survey results.
The

results
37 (and counting) pieces of content

in national, regional and specialized media throughout Spain.

Brand mention of the client in all publications

, positioning it as an opinion leader in its sector. 

27 back links

with an average Domain Rating of 60. 

Coverage in reputable media

such as El Mundo, Infobae, Economía3, Emprendedores or Marketing Directo.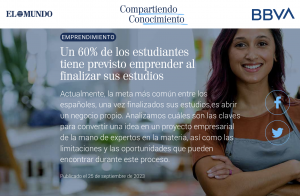 Grab yourself a coffee,
let's have a chat.
Fill in your details and one of the team will get back to you.
If you prefer to book a call direct, then use the link below ⬇️