How to Optimise Google My Business for SEO
If you run a business and hope to bring in more clients and customers, then it is within your interests to provide easily accessible details about your company. These can include things such as opening hours, product range and location. These details help drive conversions as they enable customers to make informed decisions. These decision may include what they might buy, how they can buy it and when they can come in store to complete the purchase. 
Of course, anyone can easily find these details. However, what happens when someone searches for a service that you offer, but they see your competitors' details instead?
This is where Google My Business comes into play. A My Business listing means that your company details will be displayed when customers search for local businesses. For example, your business will be displayed as a search result when people use search queries such as 'recycling companies london' or 'digital marketing Ronda sant pere'. It is very important that your company is as visible as possible here. After all, how many times have you found what you were looking for on the first page of Google search?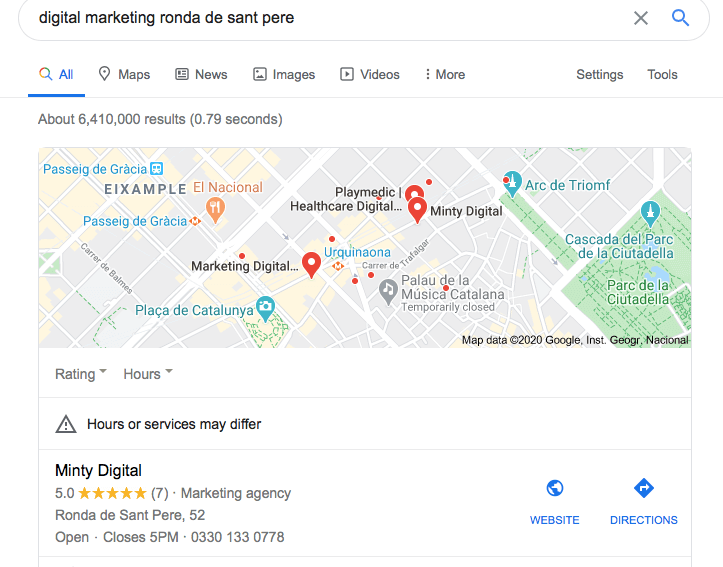 There are obviously many advantages to having a Google My Business listing. This is especially true if your market is less crowded and competitive. You may be able to appear in the '3 Pack' (the first 3 results shown when searching for something). In addition, the likelihood of people visiting your website is far higher (if they do visit it – they may just call straight away or decide to visit that day if its an actual store). Essentially, a My Business listing is vital if you want to make yourself as visible as possible online. 
How to create a Google My Business Listing
Creating a Google My Business listing is easy, and best of all it's also free! The first step is to search for and click on Google My Business, which will take you to this page:

Sign in to your Google account, and it will take you to the page below. Enter the name of your business, and you're ready to get started. Simply follow the steps, providing the required information where possible. It will ask you for business categories, location information, the areas you serve, the region you're based in, some contact details and an email address or phone number. Remember that your business categories need to be relevant, as they will determine which searches you appear in. 
After providing this information, you will be asked to verify your business by providing an address. Google will mail a verification code to this address. This process can take between 4-14 days on average, depending on your locations and the number of them. Once received, you can enter the code and verify your business. 
Once your business is verified
Now that your business and address are verified, you can edit and provide all the necessary details to make your business more visible. There are some very simple steps, while others require a bit more time and effort. 
This is what your homepage should look like: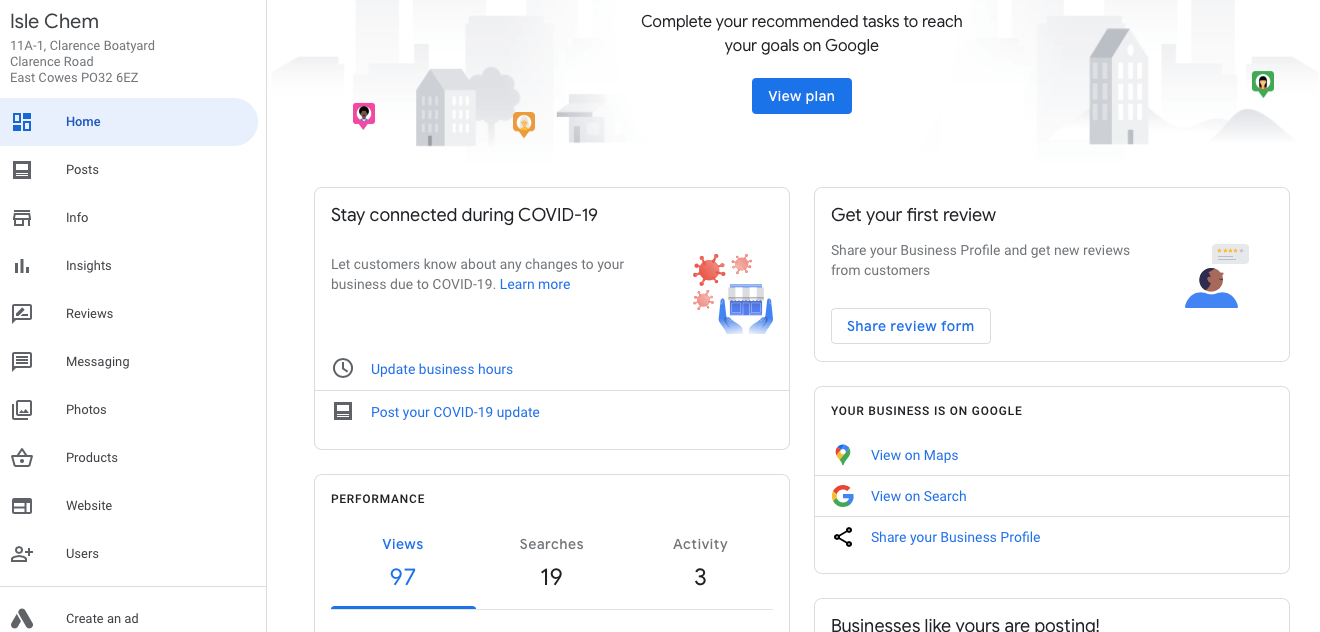 Note that on the left, if you scroll down there are options to 'Add New Location' and 'Manage Locations', as well as the tabs for 'Linked Accounts', 'Settings' and 'Support'. (caption???)
Now we come to the more simple steps. You should have completed the main ones, detailed above, already. In addition, in the info tab, you can add photos of any shops you have, as well as a logo, special hours (such as during Bank Holidays or Christmas) and information about your products. Moreover, provide a local telephone number and your address in full, including the postcode. It is important to remember that these details should be kept up to date at all times, as they can have an effect on your local rankings – according to a Moz study on Local Search Ranking Factors, Google My Business on-page signals (the name, phone and address details) were the fifth most important factor in ranking for local search. 
Furthermore, on the info tab there are 3 smaller sections where you can add attributes under 'Amenities', 'Highlights' and 'Service Options'. The Amenities and Service Options sections are self-explanatory – simply add what Amenities and Service Options you offer. For example, a restaurant might want to add 'Private Rooms' or 'Terrace' to Amenities and 'Delivery Service' to service options.
'Highlights' includes anything you regard as a highlight of your business, for example if it is 'Eco-Friendly'. These details together will provide extra information to potential customers and can really help you show off your services, further adding to visibility. 
How to completely optimise your Google My Business Listing
Once you've added and optimised the simple information to your business listing, you can start to optimise the rest. You may notice that there is an option, just below the 'Service Options' box, to write a small description of your business. It is important to write this in an optimised fashion, as you would any website content. In other words, you should include the main search phrase related to your business and one or two keywords, as well as potentially a location-based keyword. 
The next step in really optimising Google My Business for SEO is to try and obtain reviews. This is a very important factor when trying to appear in the top 3 results that are displayed in the box at the top of Google search. Some customers might leave a review without you asking, but others may need a prompt, whether through sending emails or by asking at the point of purchase. 
There are two remaining, equally important steps to carry out to complete your listing's optimisation. Firstly, you can use Posts to provide up-to-date, relevant or new information about your business. These act almost like an ad and will inevitably increase visibility and the chances of visits and conversions. Secondly, you can use links to your social media accounts to further increase visibility. This helps as Google will gather information such as this and display it when necessary. Just make sure that the details and accounts are verified and have the same name as the My Business listing. 
Depending on your business, there may be more to do, as some listings have features that are specific to that type of business. For example, if you own a restaurant then you can link your menu to your listing, or you may also be able to link to a site that handles your bookings. 
Once you have completed these steps, you'll have finished optimising your listing. You should be on your way to more traffic, conversions and sales! 
Don't forget, if you want to learn more about general SEO and PPC, you can check out our blog here.