Primethorpe: 282.85% increase in organic traffic
The
client
Primethorpe Paving Company is an award-winning paving supplier, providing high quality hard-landscaping products across the UK. Hoping to expand their reach, they employed Minty to create and implement a custom SEO strategy with the goal of attracting new customers within key markets.
Learn how our efforts helped them increase their organic traffic by 282.85% and even catch the attention of local news sources Peterborough Today and Peterborough Matters.
Improving search ranking and domain authority with Minty
As a family company that started paving gardens locally and has since expanded their service to customers across the UK, Primethorpe was looking to amplify their success through the power of search. In order to earn new organic business while dominating the search market in their sector, they set about improving their search rankings and domain authority.
Thanks to an effective collaboration with Minty, they were able to rank for more relevant keywords, increase organic traffic to their site, and attract qualified leads through search.
"Our search volumes have exploded to the best that they have ever been."
Kelsey Primethorpe
Our strategy 
Starting with an in-depth analysis into the market, we applied this extensive keyword research to the Primethorpe website and strategy. This included improvements to technical SEO and the structure of the site with weekly supervision of ranking pages to ensure exhaustive optimisation.
After initial stages of refining the existing structure, we moved on to create a more targeted content strategy that would allow the company to fill pertinent keywords gaps. This effective content approach, along with link outreach, enabled us to drive relevant, quality, and high-value traffic to their site.
This work included the implementation of:
Canonicals – to verify that only high-quality pages would be indexed by Google.
Optimising Meta Titles – to target the most important and profitable keywords.
Updating Existing Content – to ensure that content is optimised for readers and robots.
Adding Internal Links – to share link equity with important pages.
Keyword Research – to generate relevant informed topic ideas for the Primethorpe Paving Blog.
Backlinks – to link to high authority and industry-relevant publications, which boosts the authority of the Primethorpe Paving website.
With this customised SEO strategy, Primethorpe has since tripled their website traffic thanks to the more than 4,000 organic keywords for which they are ranking. This immense increase in search volume ensures that the company is reaching all potential search leads, allowing them to stand out among competitors, sell more of their products, and, ultimately, increase revenue.
The Results
"In the last 3 months, all search volumes have seen a huge increase – but the work Minty did meant we were able to capitalise on these volumes as our visibility is much greater than it was. No one could have anticipated the huge increases in overall search volumes, but the work they did meant we were well-placed to capitalise on this."
Primethorpe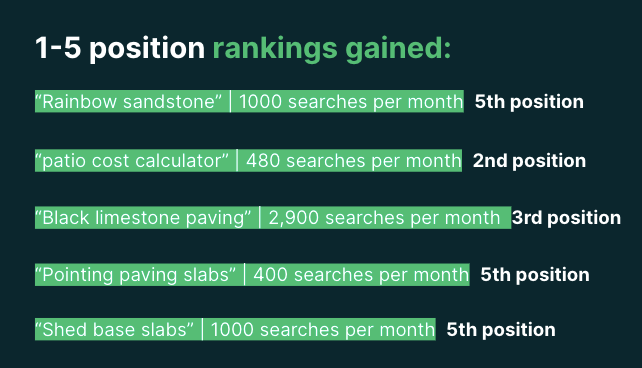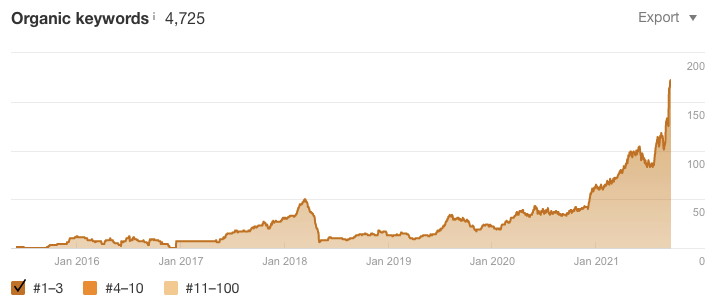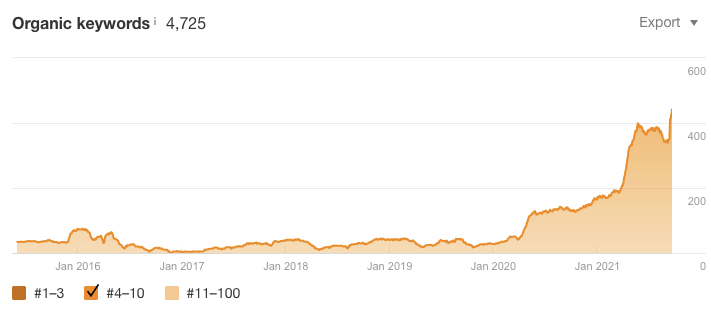 Working with us
According to the Primethorpe team, they value working with Minty because of our: "Flexibility of the service and willingness to solve one-off problems as they pop up with very little quibble."
When our customers come to us with specific requests, we always find a way to rise to the occasion. This is what enables us to stand out as an SEO agency and continually provide top quality service.
Want Results Like This?
Drop us a message and one of our team will get back to you. Drop us a message and one of our team will get back to you.
"*" indicates required fields