The OnlyFans controversy: fear of cancel culture or a PR Stunt?
A few weeks ago, the internet watched in awe as OnlyFans, the popular subscription-based content platform known for its large collection of adult content, went from banning sexually explicit photos and videos to reinstating them within a number of days. 
The initial ban – which stirred up feelings of confusion, instability, and discrimination for sex workers who use the platform to safely sell pornographic content – immediately received negative attention from a cancel-happy public that was ready to pull the trigger on OnlyFans. 
Only a few days later, they released a new statement revealing their plan to suspend the policy change, seemingly in an attempt to maintain their sex work inclusive reptuation in the wake of the backlash. 
While the fear of cancel culture is real, OnlyFans also hugely benefited from the attention brought on by their whiplash decision-making, specifically in terms of links and traffic. Begging us to ask the question: were they afraid of getting cancelled or was this really just a PR stunt? We investigated further to get the full story. 
Saving face or improving stats? Our argument for a PR Stunt 
No one's safe when it comes to cancel culture. But one would believe that a content-sharing platform – that has specifically grown in popularity thanks to its porn-friendly policies – would be well aware of the risks. That's why it was surprising to hear that OnlyFans was willing to ban their most valuable clientele, particularly in an age when sex work is such a hotly disputed topic. 
In an interview with the Financial Times, OnlyFans CEO, Tim Stokely, blamed bank partnerships for the drastic move, claiming that they would no longer support payments to these kinds of content collaborators. But following the announcement of the ban, OnlyFans received a number of online benefits that could imply that this development was more strategic than originally thought. 
Bring on the backlinks and traffic 
When we first saw this controversy playing out, we immediately turned to Ahrefs to see if OnlyFans benefitted from the overwhelming press attention they received following their announcement.
What we found was that on a normal day in the month of August, the OnlyFans website was seeing somewhere between 50 to 180 new referring domains. But on the 20th of August, the day after the ban was announced, the website received 653 new referring domains, followed by 429 the next day and above-average results the subsequent days of the month.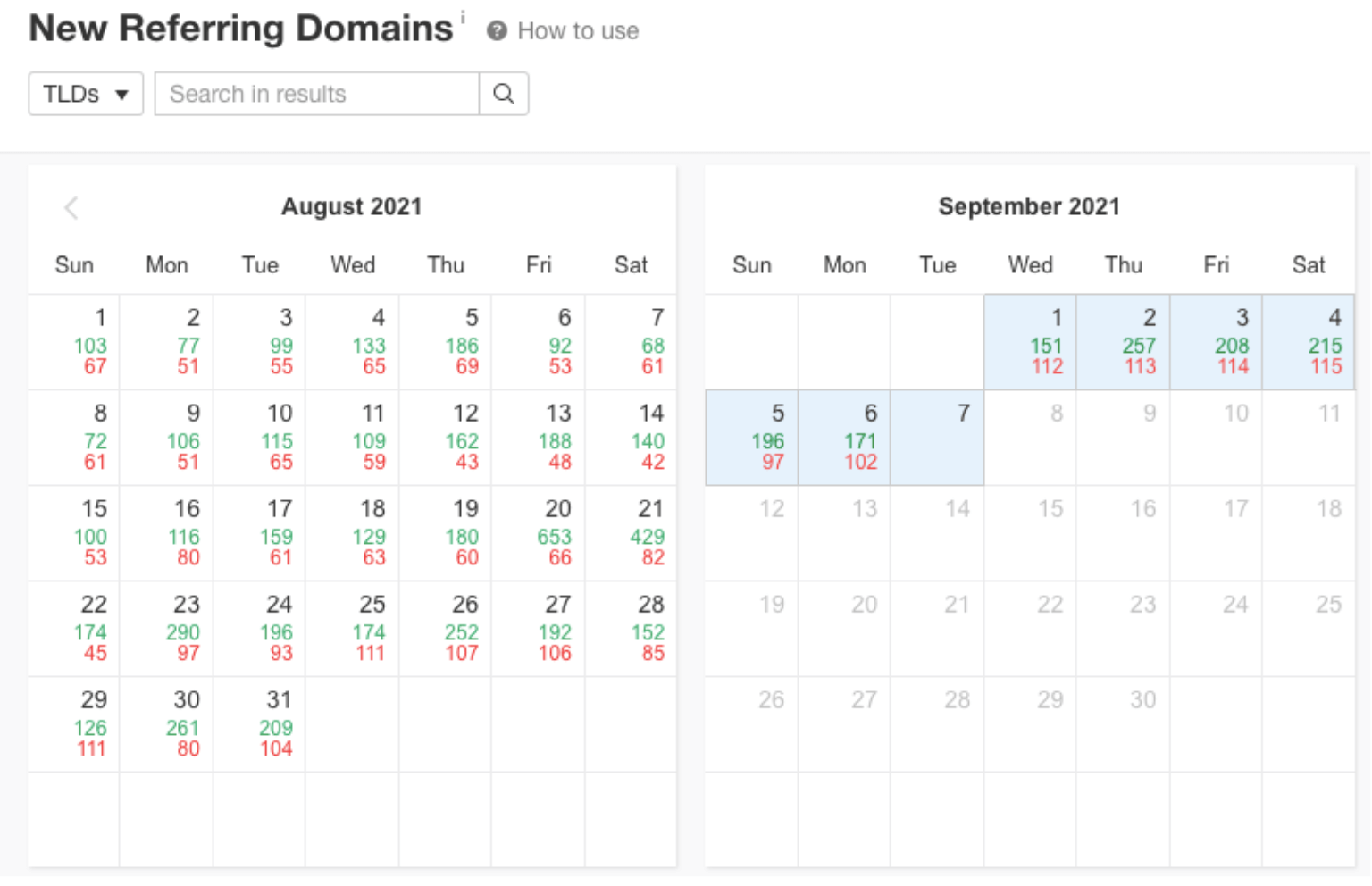 In terms of backlinks, we can see more than twice as many new backlinks on August 20th compared to any given day in the first half of the month. And a large portion of these links come from very popular, high-authority news publications like the New York Times, CNN, and The Verge. From an SEO perspective, links from domains of this nature bring in a lot of power to the OnlyFans site, and, on the marketing side, they certainly help them reach new, reputable audiences.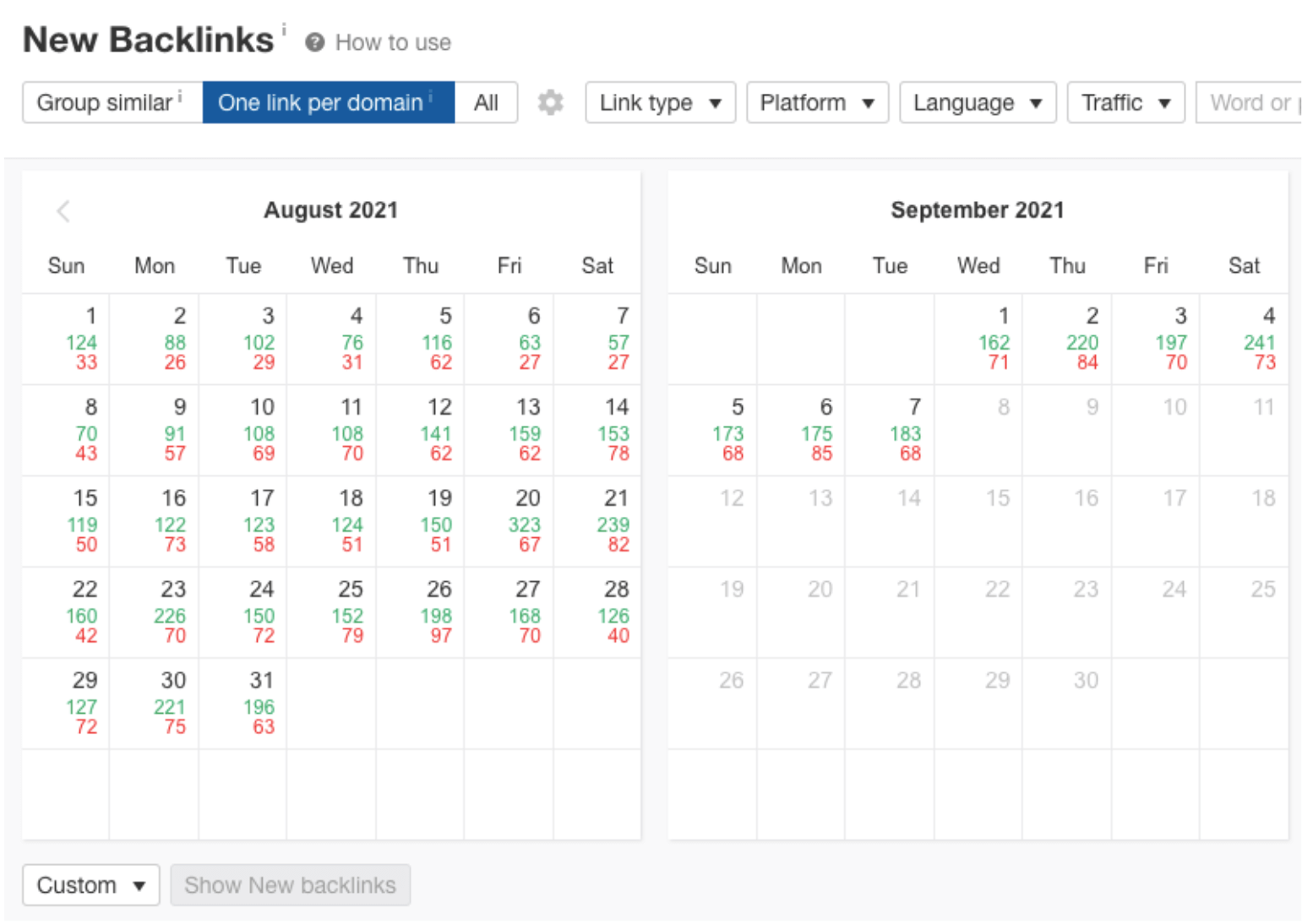 New backlinks gained for OnlyFans
Plus, all of this was enough for the site to see a visible bump in their Ahrefs Rank on the day of the ban. The Ahrefs Rank shows the strength of a website's backlink profile compared to the others in their database.

And it wasn't just backlinks that skyrocketed. We can also see that search for the term "onlyfans" during the week of the announcement reached its highest possible level with a Google Trends rating of 100.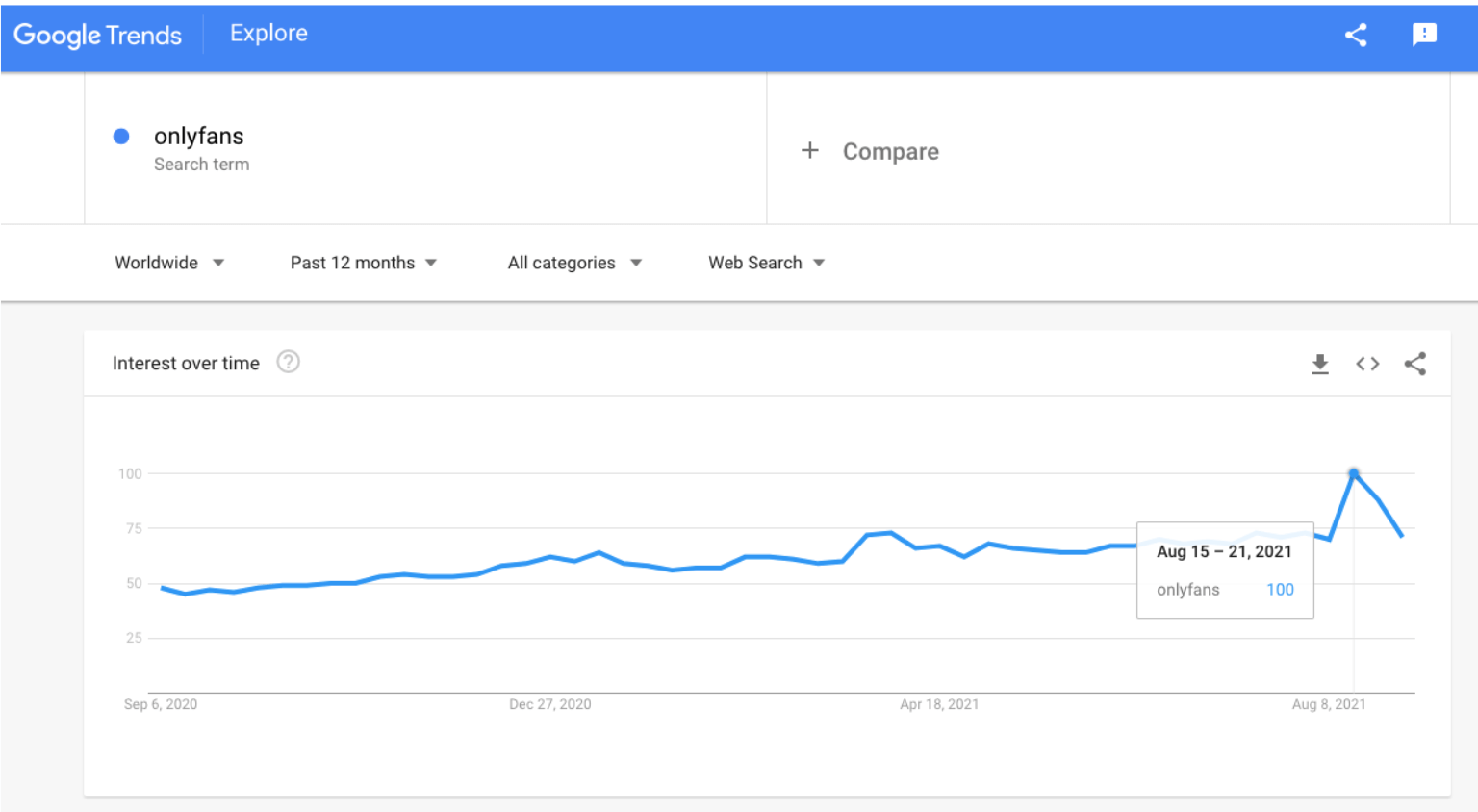 Google Trends describes a 100 rating as the term's "peak popularity," meaning that OnlyFans has never been more talked about on Google than when this announcement took place. 
But here's the real kicker. Back in January of 2021, OnlyFans released OFTV, a free app version of their site which specifically doesn't include nudity or adult content. At the time of release, they didn't do any promotion of the new feature – that was until the 16th of August (only 3 days before the ban announcement), when Bloomberg reported their new promotion strategy targeting people who weren't already using OnlyFans.
The new app was supposedly an attempt to broaden the platform's reputation from just a porn hub to a space for all kinds of content creators, making it pretty suspect that they didn't promote the app until days before their big announcement to ban pornographic content. Was it possibly a PR move to divert attention to this new branch of the brand? It's not looking great, Tim. 
While this is all quite suspicious, there is some evidence to say that this controversy stemmed from a fear of cancel culture. So let's consider before reaching any conclusions.
Surely they can't be that naive? Our argument for cancel culture
At the time of the announcement, the blow-up against the decision to drop sexually explicit content was immediate. 
As the creators that bring the most traffic to OnlyFans, sex workers were understandably offended to have been dropped so easily from the site. In a world that already undervalues sex services and barely views it as work, it was particularly brutal to see a space positioned by sex workers to be taken away from them at a moment's notice. 
This, obviously, meant that sex workers were quick to hunt for new online spaces to take their content that would offer similar conditions, breaking any allegiance that OnlyFans had forged with this profitable community. 
So even when OnlyFans announced that they would be allowing sexual content back on the platform (or as they put it suspending the original ban 👀 ) it was no surprise to see that many sex workers were not ready to immediately place the future of their businesses back into OnlyFans. The BBC reported that one OnlyFans creator felt that the ban suspension was short-term good news for sex workers, stating, "I think there may well have been enough anxiety caused to see many models continuing the move to other platforms." 
With that in mind, if this were simply a PR Stunt, why would OnlyFans purposefully erode trust with their most valuable relationships on the platform just to gain some links and traffic to their site? Surely they had to assume that sex workers would not be happy with the new arrangement, so this hardly seems like a smart move.
Now the other, very real possibility is that the OnlyFans team felt their only option to continue allowing sex workers on their site despite pushback from banks was to force the hands of these partnerships by throwing themselves into the fire of cancel culture. Aware that the public would react harshly to the threat of removing this safe space for sex workers, OnlyFans perhaps recognized that banks would have to fold in order to appease the public. 
If we look at it this way, they went public with the ban to compel these financial entities to change their uptight policies, which they achieved. But in the eyes of sex workers, OnlyFans still chose bank partnerships over their community.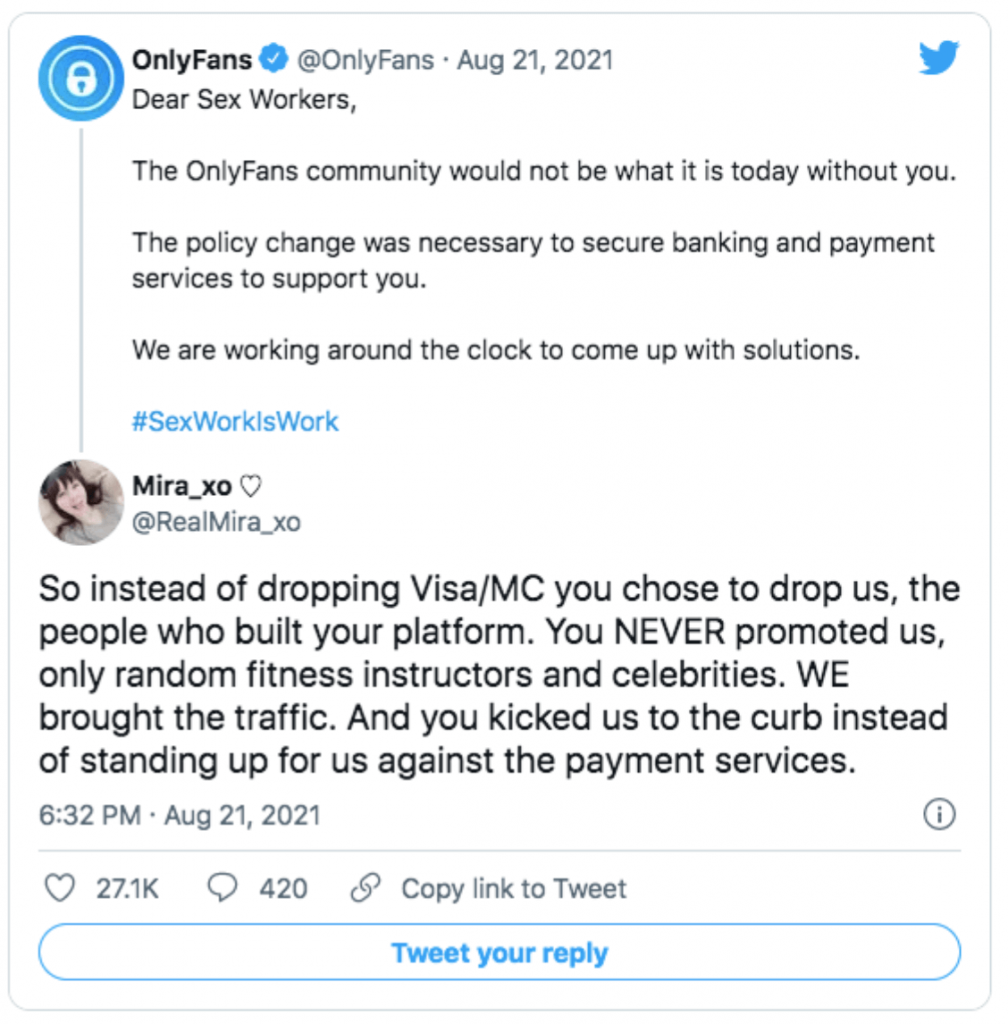 Perhaps even more notably, it wasn't until August 21st, two days after the ban announcement, that OnlyFans ever addressed the sex work community directly, using popular pro-sex work hashtag #SexWorkIsWork.
Is this suspicious? Why yes it is. Because it is a pretty clear indicator that OnlyFans was not immediately concerned about the impact of their decision to ban sexual content – until after the threat of cancel culture reared its ugly head. 
So what's the final tally? Here's what we believe
For us, it's clear that there are arguments for both sides. But when it comes down to it, we believe that this controversy was a hybrid. 
It makes sense that it was a strategic move for OnlyFans to announce the ban in order to make the public aware that banks were forcing them to remove sexually explicit content. Plus, all of those extra bennys of traffic, links, and press attention in conjunction with the promotion of OFTV – don't be so obvious next time Tim!
However, it's clear they also weren't prepared for the choice to reflect so negatively on the platform itself, which is when they overcorrected in order to avoid the fiery breath of cancel culture. Either way, all we know for sure was that it was a bold choice. 
What are your thoughts? We'd love to hear them and any new theories, so send us a reply below!