New research ranks
world's spookiest places!
How we turned around a global campaign in two weeks for our travel client iVisa.
The
challenge
We were challenged with turning around a seasonal international Digital PR campaign for our travel client within a spooky (sorry) 2 weeks in order to begin outreach before halloween!
The goal for the campaign was to secure links in US, UK and Spanish speaking publications. Here's how we did it…
A sprinkle of chilling
turnaround time
The team quickly grouped together to research campaigns that do well over the spooky season. We needed the campaign idea to translate well across English and Spanish speaking countries, so any country specific ideas were chopped, leaving us with a few campaigns that would work for our clients target media. We also needed to make sure that the campaign could be linked back to the travel industry.
And so, The World's Spookiest Places campaign was born! 👻
A dash of chilling
research
Google News, we scraped data from news articles listing the worlds spookiest places. We a̶d̶d̶e̶d̶ ̶e̶a̶c̶h̶ ̶t̶o̶ ̶o̶u̶r̶ ̶c̶a̶u̶l̶d̶r̶o̶n̶ inputted each location into a spreadsheet, and used the locations mentioned the most to form the top 10 rankings.
Cooked up a
ghostly infographic
We needed to make sure every aspect of the campaign was as relevant as possible to each title on our media list, so we translated the infographic into Spanish, and created a UK specific version too.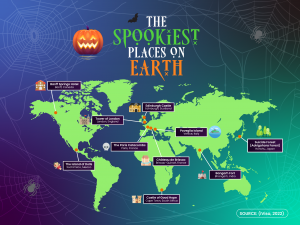 And then served up
scary good results
In the space of two weeks we managed to plan, launch and evaluate this seasonal campaign which landed links in Yahoo News, Spanish media titles, and UK regionals.
62 average domain rating of titles that linked
Coverage and links secured across Spanish and English speaking titles
45.6K lifetime views (based on audience reach and social engagement rate)
2.56M combined total of publication-wide audience figures for all outlets featuring coverage
Not bad for a 2 weeks turn around!